Haryana Staff Selection Commission Makes a new change in There pattern of Exam in Canal Patwari Gram Sachiv Patwari Post The hssc Has Annouced That An Yes and No Link Will We Asked to The candidate For appearing In exam if any candidate Does not Answer The yes no Link candidate Not allowed to appear in Examination of Canal Patwari Gram Sachiv Patwari.
Gram sachiv Yes No Link For Exam
The candidate Who Applied For The post of Gram Sachiv In Year of 2019 with Respect to the Advertisement no. 09 2019 ,Adv92019 Now an option has introduced when you login in your Account an pop ups And Candidate Need To Select the optionj from yes Or No.
| | |
| --- | --- |
| Gram Sachiv Yes No Link | Yes No |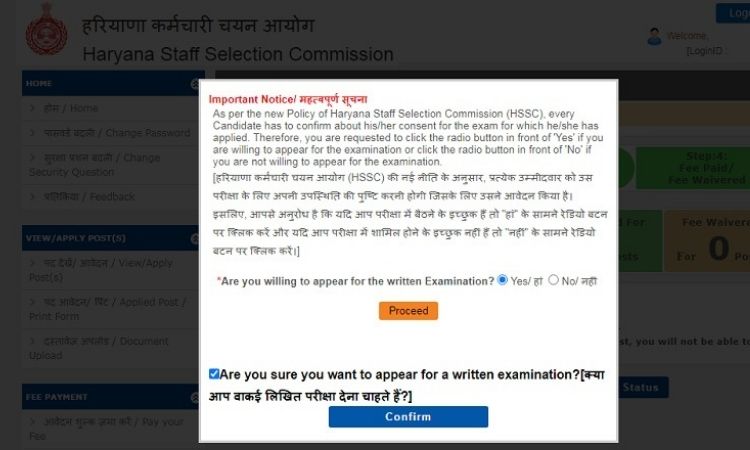 Canal Patwari Yes no link
For The Post Of Canal Patwari Candidate also Need to Take Actiuon For The Appearing In Exam If You Does Not Opt The answer Or Candidate Has Not select any Option No Admit Card Will Issue to The candidate.Candidate Who applied For The Post Of Canal Patwarin By Advertisement No 08/2019 Adv82019 Canal Patwari Now option Is Available For Yes No Link.
Haryana Patwari Yes No Link For Adv7/2019
Yes No Link For patwari exam Is Now Available candidate Now Can log In there Account And opt The yes Or No option by Clikcing On the Link Below If Any You Have Filled the exam In 2019 With Respect the Adv no. 072019.
How to yes or No in Pawari,Gramsachiv and Canal Pawari Link?
Adv72019,adv82019,adv92019 are athe advertisement Login Your id and Yes Or No On Pop.
What If i Do No answer Yes no link?
No admit Card Roll No.. Will Issue To These Candidate Who No Opt.
Yes No Links For Patwari Gram Sachiv canal Patwari